KC Games
Play Free Online Games
Please wait while the game is loaded..

Lead for Dead Call of the Dead Loading 0%
Description:This is a 2D game, clearly inspired by CoD MW2 and CoD Zombies. The clue is to survive endless waves of zombies and hellhounds, as you play, you will earn gold, and increase your stats, the stats unlock new perks, get better attachments and unlock new characters, and the gold can be used to buy upgrades, and unlock new weapons. As you play the game, you will also earn in-game points, that can be used for buying new weapons in the support screen or mystery box (they must be unlocked first), or pick up weapons from the ground. You have two weapons slots, the primary weapon slot and the secondary weapon slot. The points can also be used to turn on electric traps, the famous Pack-A-Punch Machine from CoD Zombies, and upgrade your weapons. Someone said that the in-game prices are too high, but don't worry, you will get enough points as soon as you unlock the flamethrower, or FMJ on any weapon. The three characters have different stats (running speed, health and so on), and different skills and start weapons. There is also a sexy teammate, who can be controlled by pressing the "3" key. This has taken me a half of a year, so I hope you enjoy it. Ps. this game requires a fast computer, older computers might lag. If the game lags, reduce the graphic quality in the settings menu. Updates 14.04.2011: I have made a new video setting, you can now change the zombie's detail level, you can select high or low, if you still experience lag, you should consider buying a new computer, it runs at 30 fps to me, the maximum zombie amount. If you don't like to buy a new computer, it may be satisfying that I'll make the "poor detail level" tomorrow.
Instructions:ove with WASD Shoot and Aim: Mouse Change weapon: 1 and 2 Command Team mate: 3 Stab with knife: Q Throw grenades: G Place Claymores: C Run: Shift Buy weapons: F Remove walls: F Rebuild barricades: F Pause: P Continue: P Use Skill: E Toggle Radar: Space Mute sound: M Change graphic and audio settings: Right-click menu (doing this in the settings gives you more flexibility). Don't forget to unlock new weapons, and use perks as you unlock them!
Top 10 Games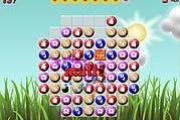 Swap one gem with an adjacent gem to form a horizontal or vertical chain of three or more ge...